Last time I talked about the different weapons that didn't make it into the game. This time I want to talk about a few ideas for stages that got changed or just didn't make it in because of time.
Spire
The spire used to be a level from miniDoom1. It was that vertical level that was mostly red, this was the only level that didn't have a name from any Doom level and I wanted to keep it in miniDoom2. I wanted a vertical level and my first idea was: climb a tree. I remember there being some weird dead trees in the first room of hell in classic Doom. So then I thought: climb a giant dead tree with ruins along the way. I don't know, the idea sounded solid in my head.
I want dead trees and lava??
The poor artist tried rendering my mad ravings into textures. But in the end he had a better idea: FLESH. We changed the whole theme of the level to fleshy spires with meaty acidic interiors and a few ruins. Much cooler, and that's why you need a team to challenge your ideas.
Fleshy is waaay more interesting
The great miniDoom DLC
Early on I wanted there to be 3 maps, with 6 levels each to achieve the great 666. We ended up with 2 maps with 6 levels, 4 trials and a bonus level. Most of the unused ideas I just spliced into the bonus level Pandemonium. But we also discussed the possibility of adding a third map later as a sort of free DLC or expansion. And for a time it was real in our minds, but later due to the huge time and effort it took to develop the game we realized it would be pretty much impossible.
The theoretical map of the expansion
So the idea of the "DLC" was to add a map in space around the 2 tiny moons of mars Phobos and Deimos. The story wouldn't  follow hell on earth, it would follow the Doom64 story. The demons where defeated in the moon bases, but a powerful demon that revives all of them appears:  the Mother Demon.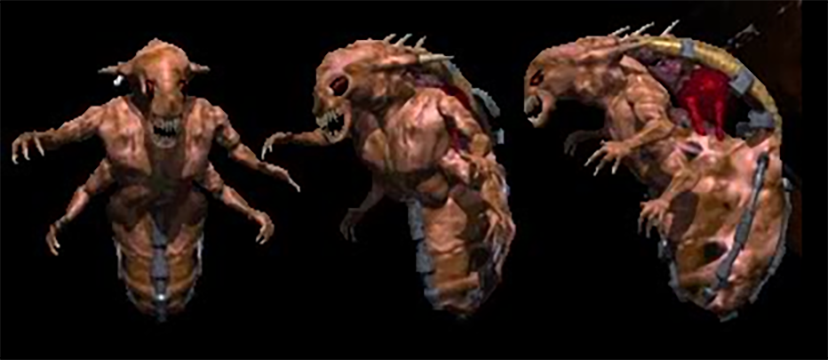 The Mother Demon, from Doom64's map "the Absolution"
Your mission is to go to the moons and guess what? RIP AND TEAR until they are empty again. The gameplay would include low gravity areas, the perils of outer space and new enemies of course.
The Arena
Just a mockup
The idea of the arena was an infinite level where you could test your skills in a series of never ending rooms where the difficulty would ramp. You would clear a room, get some health back then try to clear another more difficult room. There would be no reward just accumulate as many kills as you can so you can brag about your high score haha. There was a bit of work put into this before we realized it was too late to include it in the game. I'm actually toying with the idea of completing it and adding it to the next version of the game… what do you guys think? I took a long needed break from miniDoom but I'm feeling sort of refreshed nowadays.
See you next time; I'll talk about enemies that didn't make it into the game.